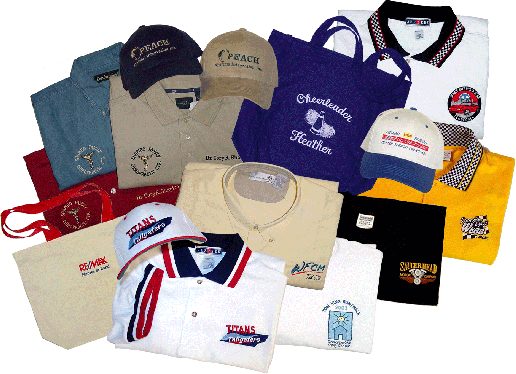 We take great pride in giving our customers the best service possible and
providing them with an excellent selection of quality garments and accessories
at competitive prices.
We offer a full range of apparel for everyone from individuals to churches,
clubs, & large organizations.
You can check out our online catalog by clicking here.
We are dedicated to the highest quality of customer service and take much
pride in our workmanship and creative ability.
We process orders with professionalism and work with our clients to do
whatever is possible to get the job done on time and to our customer's
satisfaction.

We have no minimums.
We guarantee customer satisfaction.
We accept Visa & Mastercard as well as Pay Pal.
We offer a referral program where you can earn free garments.
Digitizing charges or set-up fees can be waived with minimal orders.
Check out the Company Logos link to learn more.
We have an in house graphic designer to assist with Company logo or design.









Contact Information
Please contact us if you have questions or would
like to place an order

Telephone
(615)859-4640

Address
1916 Union Hill Rd. - Goodlettsville, TN 37072

E-mail
customerservice@stitchesbypat.com


A Special Thanks! to all of the linked websites below
for all their web promoting tools and services!

Changing LINKS