We gladly accept:



Questions?
Phone us at:
(615)859-4640

Monday - Friday
8:00am - 5:00pm CST
Saturday
8:00am - 2:00pm CST


Style #RE-TM101 Ladies Johnny Collar Polo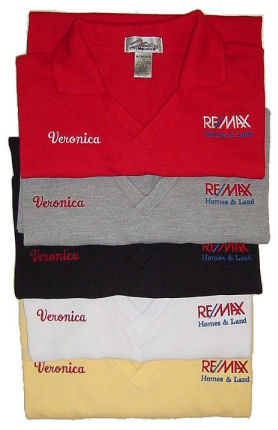 ---

*For sizes larger than XL
$2 per X will be added
---
Ladies 7 oz. 60% Cotton/40% polyester short sleeve pique knit shirt
Features a v-neck Johnny collar and a square hemmed bottom with side vents.
Available in: Black, White, Oxford, Red, & Butter
Sizes: XS-3XL

Shirts are pictured with Re/Max logo but can be done
with any realtor logo with proper authorization.

Style #REB-TM101 Ladies Johnny Collar Polo

Same Shirt as above
With new balloon logo
& Name Underneath
Features a v-neck Johnny collar
and a square hemmed bottom
with side vents.
Available in: Black, White,
Oxford, Red, & Butter
Sizes: XS-3XL



---

*For sizes larger than XL
$2 per X will be added

Style #RE-JZ 437 Unisex Jersey Knit Polo

Unisex 6.5 oz. 60/40 Cotton/polyester short sleeve jersey knit shirt
Features 2 button placket, knit collar, rib knit sleeve bands and a hemmed bottom.


Available in: Black, White, Oxford, Red, Royal & Navy

Sizes: XS-3XL



---

*For sizes larger than XL
$2 per X will be added